Bridge the Gap With the Copperloy Industrial Dock Plate
Do you need a safe and efficient way to bridge gaps for lighter freight loading tasks in your facility? Adding an industrial dock plate to your warehouse from Copperloy is the ideal solution. Copperloy is a leading manufacturer of loading dock equipment, so their dock plates and ramps are an immediate upgrade to any facility.
An industrial dock plate is a flat piece of metal that bends on one end to provide accessibility for hand carts, dollies, and pallet jacks. Copperloy offers a diverse selection of industrial dock plate models with weight capacities ranging from 1,000 to 14,000 pounds.
Copplerloy Dock Plate Options
Looking for an industrial dock plate for sale? Copperloy industrial dock plates come in various models with many different lengths and widths in addition to the standard options. So, if your facility needs specific dimensions, Copperloy can give you the optimal dock plate based on your application requirements.
In fact, Copperloy's selection of industrial dock plates offers configurations for nearly any facility application. You can also select between aluminum and steel design.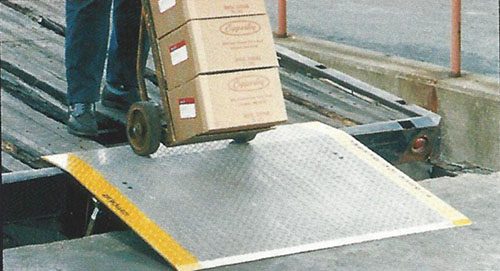 Aluminum Industrial Dock Plate
Aluminum dock plates are significantly lighter than steel dock plates. However, they can still offer enough strength to provide up to 12,500 pounds of weight capacity. An aluminum dock plate can be the optimal solution for completing loading tasks with handcarts, dollies, and other types of lightweight material handling equipment.
Steel industrial dock plate
Steel industrial dock plates have substantially higher weight capacities than aluminum models. They also come in various lengths and widths. Most notably, steel industrial dock plates have high enough lifting capacities for fork truck accessibility.
Why choose Copperloy?
Considering a Copperloy dock plate? Choosing Copperloy means you receive all the advantages of working with a leader in the development of ramps, dock plates, and other forms of loading equipment. If you want to improve safety, efficiency, and profitability in your facility, Copperloy equipment is the ideal choice.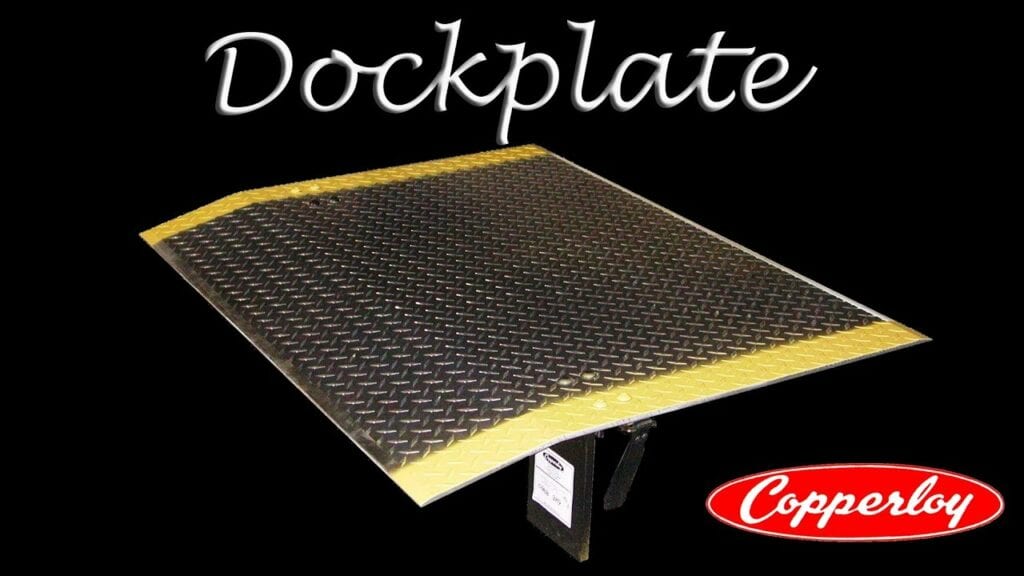 Durable Equipment That is Built to Last
Copperloy specializes in manufacturing heavy-duty loading dock equipment with superior durability and efficient design. Furthermore, Copperloy uses only the best available materials in the construction of their equipment. So, you always receive the strongest, safest equipment for your facility.
If you need reliable equipment for heavy freight loading tasks in your facility, Copperloy's catalog of dock plates, dock boards, and loading ramps are the ideal solution. With Copperloy equipment, you will notice an immediate improvement in your facility's productivity.
High-Precision, In-House Production
Copperloy operates a 70,000 square-foot manufacturing facility in Twinsburg, Ohio. This facility houses state-of-the-art manufacturing equipment, so they can maintain the highest precision for every project. Most importantly, Copperloy can cut, burn, weld, machine, and paint large custom fabrications in-house.
Copperloy's engineering staff is comprised of certified welders and expert machinists equipped with automated robotic technology. With more than 60 years of experience in the industry, Copperloy can custom fabricate loading dock equipment solutions for nearly any application.
Custom Fabrication For Unique Loading Dock Applications
Is your freight loading operation less than typical? If your facility needs equipment that fits particularly unique requirements, Copperloy can custom manufacture dock plates and ramps to meet your specific needs. With their expert staff and advanced manufacturing technology, they can develop custom solutions with ease.
Copperloy's in-house engineering team can custom fabricate any of the loading dock equipment solutions. So, they can meet the requirements of your unique facility. In fact, Copperloy's team can work with existing CAD drawings or even develop new designs with 3D modeling software. As a result, Copperloy can readily meet and exceed the quality and performance standards of their customers.
The Copperloy team has customized pieces for teams from across a diverse range of industries. To list, just some of the team's past customizations have included dock to ground ramps, industrial lift tables, rebar pallets and dock plates.
Customers count on the team for an extensive selection of materials for customization. The Copperloy team can fabricate extruded aluminum, nylon, plastics, beryllium copper and more.
Furthermore, all Copperloy equipment is manufactured here in the USA with only the highest quality materials. Their technical staff and engineering team will work with you directly to ensure you receive the ideal equipment solutions for your facility.
Dock Plates vs. Dock Boards
If you are unsure of how to use an industrial dock plate or whether it is right for your facility, try comparing it to Copperloy dock boards. Choosing the right equipment depends on how your facility functions.
Steel dock boards and aluminum dock boards are designed for freight loading at higher capacities. In fact, they offer excellent forklift accessibility with various built-in safety features. Copperloy dock board equipment features either bolt-on steel curbs or welded aluminum curbs, so they can prevent forklift runoff. Capacities for Copperloy dock boards reach up to 20,000 pounds.
Industrial dock plates are similar to dock boards, but they do not come with any curbs. Dock plates can bridge gaps between areas in your freight loading facility. These plates come in both steel and aluminum constructions with capacities ranging from 1,000 to 14,000 pounds. Dock plates cannot offer the same capacities as dock boards because they do not feature steel or aluminum curbs.
You can feel confident in choosing an industrial dock plate from Copperloy. Visit the Copperloy website to learn more about how to use an industrial dock plate.
About Copperloy
Copperloy has been a leading manufacturer of loading ramps, dock plates, dock boards, and other forms of loading dock equipment for more than 50 years. They design their equipment to meet the performance and safety standards of virtually any industry or application. Whether you need industrial dock plates, heavy-duty loading ramps, portable loading docks, or a hydraulic lift table, Copperloy can deliver the perfect equipment for your facility.
The Copperloy team has worked to earn a reputation as a critical resource for companies from a diverse range of fields. For example, the Copperloy team provides installations for military, publishing, wind energy, light assembly and metal processing applications along with numerous others.
For more than five decades, businesses in various industries have relied on Copperloy to deliver the loading equipment solutions they need. With Copperloy, you can more effectively utilize facility floor space while maximizing safety, productivity, and profitability. To learn more, reach out to the Copperloy team today.
If you are looking to acquire industrial dock plates or other forms of loading dock equipment for your facility, contact Copperloy today or visit the company website at https://copperloy.com/ today.