How To Get Your CDL In 2021
"CDL" is an abbreviation for Commercial Driver's License. A commercial driver's license (CDL) is a driver's license that is required to operate large, heavy, or placarded hazardous material vehicles for commercial purposes anywhere in the United States.
Several types of commercial motor vehicles (CMVs) require drivers to hold a valid CDL. The driver may also be required to obtain one or more special endorsements, such as Air Brakes, Hazardous Materials (Hazmat), Tankers, or Passenger Vehicles, to drive a vehicle equipped with air brakes, a truck with a tank, a truck carrying hazardous materials, or a passenger vehicle.
Each type of CDL and endorsement requires that you pass a written CDL test and some also require a skills test. Some types of endorsements have additional requirements. For a Hazmat endorsement, the driver must also be fingerprinted and undergo a Transportation Security Administration (TSA) security threat assessment.
An Overview Of How To Get Your CDL
CDL licenses are organized under A, B or C classes. All 3 of these license classes have the same basic requirements.
You must be at least 21 years of age (at least 18 years of age to drive intrastate)
Submit your state's CDL Application and pay the application fee
Provide identification and Social Security number verification (check your state's requirements)
Provide proof of residency for state and United States
Submit a completed Medical Examination Report Form with Medical Examiner's Certificate
Pass a vision test
Pass the knowledge exam
After passing, be issued your Commercial Learner's Permit (CLP)
Wait a minimum of 14 days before scheduling your CDL road skills examination
Pass your pre-trip inspection
Pass the road skills and driving examination (make sure you bring your own vehicle)
After passing, pay the necessary licensing fees for your new CDL (You also have the option to submit a 10-Year Record Check, if you've had a driver's license in any state or jurisdiction other than the one where you are applying for your CDL)
If you are a veteran with experience driving military buses or military trucks, your state may give you the option to waive any or all of the following written tests: CDL General Knowledge, Passenger, Tanker, or Hazmat, with proof of relevant military experience. Every state will also allow you to waive the driving test.
Required Documents To Get Your CDL
Commonly accepted documents for proof of identity usually include your social security card, a Medicare ID card, a current ID card from any of the US Armed Forces (active, retired, reserve, or dependent), or a military separation document, otherwise known as a DD-214. Several states accept some other forms of social security number proof, so check your local DMV's website before you go.
The list of documents accepted as proof of your identity varies greatly by state. A few of the most notably accepted forms include a US birth certificate or certified copy, valid US passport, USCIS American Indian Card, valid military ID card, certificate of either Citizenship or Naturalization, Permanent Resident Card, or Temporary Resident ID Card.
It is more than likely that your state will accept several other documents as proof of identity, so it's best to check your state's CDL manual or local DMV website for the latest information on how to get your CDL. Requirements for proof of residency will vary by state as well. You may only need to provide a copy of your utility bill for some states, such as Alabama, while others like California may require two or three different documents from a list of up to eighteen various options. The address on the documents must match the current address on your CDL application. The best practice as always is to check your local DMV website before you get started to avoid any issues.
How to Get your CDL by Class
To get your Class A license, you need to do everything previously discussed and also pass the Combination written/skills test. Bring a class A vehicle to your driving skills test. Depending on your particular type of vehicle and employment you will be seeking, you may need to take additonal endorsement exams, such as the Double Triple endorsement exam, which allows you to drive with double or triple trailers. If your vehicle has air brakes, you must to pass the air brakes test.
A Class B license is required if you will be driving a single vehicle that is over 26,000 pounds, and the GVWR of any vehicle being towed is under 10,000 pounds. Because the majority of the weight will be in a single vehicle with a class B license, you do not need either the double-triple endorsement or combination endorsement. If your vehicle has air brakes or you will be pulling a trailer, you will also need to get endorsements for those.
If you'll be driving a vehicle for transporting over 16 passengers or hazardous materials, then you need a class C license. The process of how to get your class C license is very similar to that for the class A or class B licenses, though it depends on which type of vehicle you will be driving. The way in which the class C license is unique is that you must submit additional applications for some of the required endorsements. If you will be transporting passengers, you will need the passenger transport endorsement. For driving a school bus, you'll need the school bus driver endorsement and the passenger endorsement.
Looking for Online/Remote Resources to Learn How to get your CDL?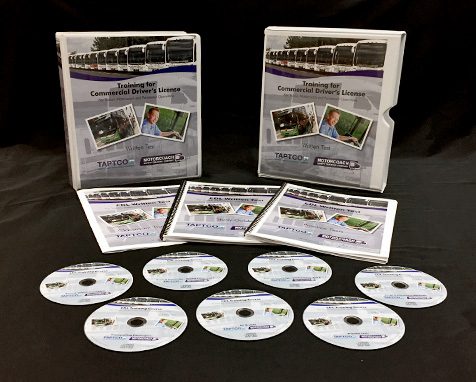 Turning applicants into qualified commercial drivers is always a challenge. Many great potential drivers are not prepared for the difficulty of passing the CDL written test. Taptco takes this into consideration when they assembled this all-in-one course to ensure no great applicants are lost due to lack of cdl test preparation.
This course uniquely offers:
Two narrators, who work together to deliver the training
Video of the correct practices to help trainees understand
Many test tips to help with the success
Extensive practice tests – 11 tests containing 386 questions. The tests show when employee answers incorrectly and then provides the correct answer
Order here or visit tapcto online at https://taptco.com/ to learn more.