How Does Workers' Compensation Insurance Work?
If you or a loved one have suffered a workplace injury or illness, you may be wondering if workers' compensation is right for you. The workers' compensation system is not always easy to understand, and laws differ from state to state. Keep in mind that the best solution to understanding workers' compensation is to seek legal advice or to call your local workers' comp office. 
With that being said, there are some fundamentals of workers' compensation you should know before moving forward. 
Let's start with a simple question: How does workers' compensation work? Workers' compensation is a benefit given to workers who are unable to work due to a workplace accident or illness caused by work conditions. This benefit provides medical expenses, lost wages, and rehabilitation costs to such employees. In addition, it also covers funeral expenses for families of employees who are killed on the job.
The Workers' Compensation Process
So how does it all work, and where do these benefits come from? Workers' compensation is a system put in place to protect workers and their employers in case of a serious accident. As mentioned, the specific laws and regulations are different in each state. 
Employees seeking to file for workers' compensation can do so only if their injury or illness happens on the job. So if an injury that happens outside of work inhibits you from performing your job, that's a different issue. 
Once an employee files for workers' compensation, their claim has to be processed. Again, this timeline depends on the office handling the claim. The claim can be accepted or denied, but even if it is denied, the worker has a right to representation. When this happens, it's best to hire an attorney to represent you who understands the specific, specialized rules of workers' compensation.
Let's talk about some of the legality involved in workers' compensation claims.
When Do You Need A Workers' Compensation Lawyer?
If your workers' compensation claim is denied, you may be wondering if it's possible to settle your claim. It is possible to negotiate a settlement, which usually ends in a sum of money being paid in exchange for the injured or sick employee giving up their right to ask for future compensation. It's important to note that no party has the right to settle a claim. You, your employer, and the Bureau of Workers' Compensation all have to reach an agreement before any settlement is possible.
If you are considering settling a workers' compensation claim, it's important to seek legal advice first. Even if you're discussing your situation with an employee at the Bureau of Workers' Compensation, or with your employer, you need to ensure your rights come first. 
Also, it is not usually possible to sue your employer instead of filing for workers' compensation. Workers' compensation laws protect your employer from being sued if they do pay workers' comp insurance, which is required in most states. 
Because each case is situational, the best option you have is to seek legal advice through a consultation to learn more about your rights and the best path forward for your situation.
What Happens Once I Receive Benefits?
If your claim is accepted and you are set to receive benefits, you should know what those benefits cover. Workers' compensation provides replacement of your income, coverage of medical costs, and will sometimes provide assistance for job placement if vocational rehabilitation is needed after recovery.
You should also know that while these benefits are helpful, they tend to be modest. Compensation is not meant to sustain you for the long term, but rather serves as a tool to help you while you recover. 
If you do become permanently unable to work due to your injury, and cannot work at all, you may be able to receive long-term payments. These payments are called Permanent Total Disability Compensation, and the amount depends on a number of factors in your situation. This is a long, complicated process, but can be made easier with legal help and support. 
Finally, these benefits are not taxed by the federal government, and most states do not tax workers' compensation benefits. That being said, if you have more specific questions about your benefits and what they entail, it helps to have legal experts on your side. The team at Marshall Grinder Debski Pitts is the perfect team to turn to when you need assistance.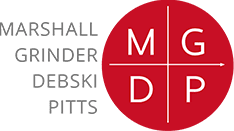 About Marshall Grinder Debski Pitts Law Firm
Marshall Grinder Debski Pitts Law Firm is a dedicated team of attorneys and staff located in Northeast Ohio. They have over 40 years of experience helping working people get back on their feet with the legal support they need.
This firm focuses on cases involving workers' compensation, social security disability, veterans' benefits claims, and other legal matters. Their mission is to serve clients and their families with professionalism and compassion. Their high ethical standards mean that their legal work is always efficient and effective, and their communication with clients is fast.
So if you're wondering the next step in your workers' compensation case, or need help with another legal issue, this is a team you can count on. Call Marshall Grinder Debski Pitts at (330) 762-0280 or visit their website https://mgdplaw.com/. You can learn more about what they do and request a free consultation today.