Elevate Your Shipping with this Loading Equipment | Dock Board, Dock Lift, and More
When it comes to processing shipments, efficiency is everything. Amid labor and material shortages brought on by COVID-19, and other global economic challenges, it can feel impossible to ever get to a point where your shipping feels seamless.
Although dock equipment doesn't solve the whole issue of efficiency, it certainly helps. Tools like a dock plate, dock board, and dock lift are a great starting point for expanding shipping capability, maximizing employee productivity, and growing your facility. When you invest in the right equipment now, you set your business up for success in the future. But where should you start with dock equipment? Let's run through some smart purchases, like a dock board, and outline why you need to add these pieces to your inventory.
Dock Board | Loading Equipment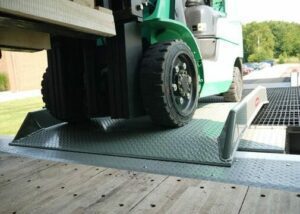 A dock board is the perfect piece of equipment for bridging the gap between a truck and a dock. If you work in shipping then you know that not all truck beds are made the same, so adjusting to these varying heights can take up lots of time. 
A dock board eliminates the problem of bridging a gap between a truck bed and dock. This temporary fixture can be moved around and adjusted easily, so when new shipments come in you aren't spending hours trying to find the right connector. In addition, when you purchase a dock board from a reliable seller, you will benefit from their strength. Some dock board options will come made from stainless steel, which is an extremely strong and durable material that can handle loads sometimes up to 20,000 lb.
A dock board is an easy and simple way to better streamline your operations, so you can focus on processing more shipments fast and safely.
Dock Plate
A loading dock plate, like a dock board, is a type of connector between two pieces of equipment. A dock plate bridges the gap between one area to another in a material handling operation. 
A dock plate is different from a dock board in that it does not have safety curbs. This means that dock plates are better for irregular and sharp turns that require more maneuvering. Another key difference between a dock plate and a dock board is the type of loads they can carry. For lighter applications, just put down the dock plate to close a small gap. For heavy loads that are moving in and out of a truck, opt for the dock board instead. With either piece of loading equipment, you are still using a fast and simple solution to a pesky problem.
Dock Lift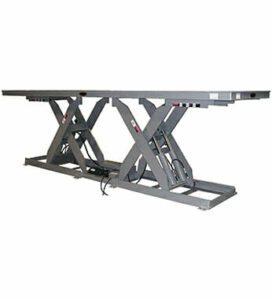 A dock lift lines up a load to any truck bed height, manually or automatically. Dock lifts, unlike a dock board or plate, are more often installed permanently due to their functionality. Dock lifts can easily raise up loads that are sometimes close to 15,000 lbs, thanks to their durable design and heavy-duty materials.
If you need a fast and easy way to move and adjust loads, the dock lift may be the perfect equipment for you.
Increase Your Loading Capacity Today!
Whether you need a dock board, lift, or dock plate, all of this equipment is sure to help shipping operations. When you choose a reliable equipment manufacturer, you can get this loading equipment that's engineered for safety and durability, so you don't have to worry about your employees working in unsafe conditions. Instead, you and your team can focus on productivity and getting the job done!