The world has changed a lot over the last several years, and with that, our transportation of goods has changed as well. So, it's important to know what to expect when shipping anything, and that goes for shipping lumber too.
The lumber industry moves large quantities of products at once. Yet, beyond simply shipping wood as a product, wood also plays a vital role in making shipping possible in the first place. Wood plays a huge role in moving products, both in transit and before transit, this impact comes in the form of pallets.
The Benefit of Shipping Pallets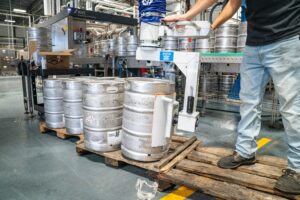 These wooden storage systems allow for an easy way to move heavy or cumbersome items around without too much hassle. There are many forms of lumber used in the construction of pallets, but it is common to see two to three pieces of 3×3 lumber or 3×4 lumber used as the primary supports. Thinner planks lay across the top of those larger pieces of lumber, often secured with nails.
This process creates a raised surface on which the product can be placed, strapped, and wrapped with ease. After products are placed in this manner, a forklift can fit its forks underneath the thinner planks, thanks to the clearance provided by the 3×3/3×4 lumber. From there the forklift can easily move the pallet around, making things safer for the people involved, and expediting shipping processes. Even though it's a simple item, a pallet is a critically important part of the shipping process.
Beyond the role wood plays in making shipping possible, there's also the problem of shipping lumber as the product.
Useful Tips for Shipping Lumber
Lumber hauling doesn't have to be complicated. Here are some tips to make the process easier and more efficient. For smaller shipments of wood, 70 lbs. is the ideal weight. To get the best rate, try to stay as close as possible to this number. You may prefer splitting your shipment into two packages if your shipment weighs over 70 pounds. If you have any questions about lumber shipping rates, contact a local lumber company. Another way to save money is to make sure all your bundles of wood and lumber are the same length. Even one long piece in the bundle could increase your shipping cost, so try to bundle pieces of the same size together.
Start by wrapping your lumber bundle in a plastic sheet or vapor barrier before shipping it. Then place your bundle on a pallet and use two pairs of ¾" metal straps to secure your lumber. You should wrap one strap around the bundle to hold it together. The other strap should go around the pallet to secure the lumber. On the side of the bundle, place a self-adhesive shipping label with the correct information.
Importing Wood
Generally, imports of wood and wood products to the U.S. must meet two requirements. You must sanitize the wood before it is imported. Additionally, you must submit an Import Permit for Timber and Timber Products for every commercial import.
Although some people think they need to hire specific lumber shipping companies to ship wood, that's not the case. The majority of deliveries don't require special lumber trailers or wood hauling trucks. So long as your lumber does not exceed the size requirements, most standard carriers will be able to ship it for you.
With ground carriers like FedEx or UPS, you can ship lumber up to 84″ long. Shipping it via USPS is also an option if it's under 72″ long. You will have to use LTL truck freight if your lumber is longer than that. For shipments under 150 pounds, LTL truck freight isn't very cost-effective.